Welcome to Dr. Dental
Changing Smiles one at a Time!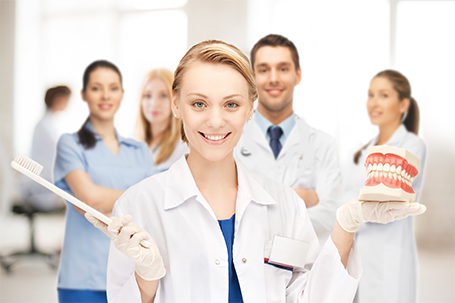 We understand that for many, the thought of going to the dentist is not always a pleasant one. Many patients have had a previously traumatic dental experience, fear the unknown, or worry about the cost of an unmaintained mouth. We are sensitive to these concerns, and want to reassure you that dentistry in this modern age is exciting and the possibilities are endless!
At Dr. Dental, we believe that every patient has the right to understand their treatment options, ask questions, and choose to do what is right for them. We strive to deliver the best diagnosis and treatment that dentistry has to offer. We believe that these goals can be met through a continuous and open dialogue between you and our entire team.
Our practice encompasses all aspects of dental care, addressing your total health with preventative, restorative and cosmetic services that are gentle and comfortable. We encourage you to involve yourself in your own treatment plan and ask questions throughout our relationship. In our opinion, an informed and involved patient is most likely to achieve the highest level of satisfaction in dental healthcare.
We thank you for your interest in our services and the trust you have placed in us. Please contact us at (505) 554 2262 you have any questions.
Our Services
Professional and highly trained Dentists
Testimonials
See What Patients Say About Dr.Dental
This place is good not a fan of the dentist but had a good experience.

Dr. Namburi is great with kids ♡ very nice, very clean place, Dr. makes kids feel comfortable and makes them laugh.

Email

Practice Hours

Mon-Fri: 8:00 A.M – 6:00 PM
Sat: 8:00 A.M – 4:00 PM
Sun: Emergency only